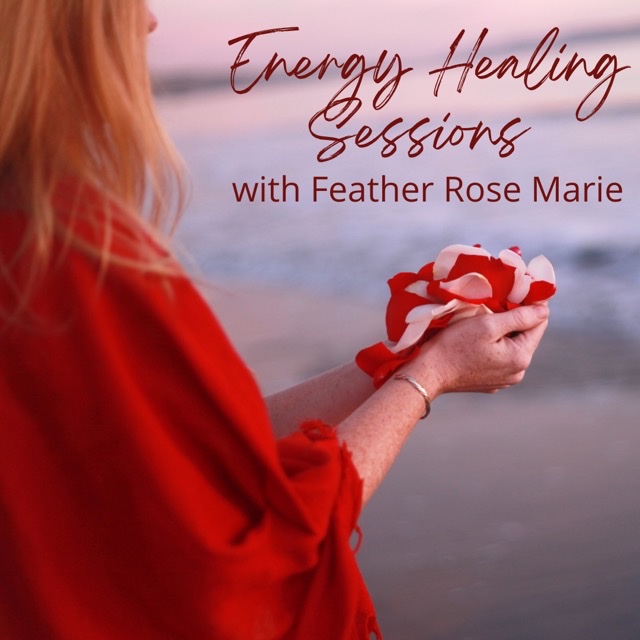 A private session with Feather is going to be unique for each person.
In our time together I will create the sacred space for you to access the truth of your direct felt experience in the moment. Using a Somatic approach we will allow the space for what wants to come forth to be witnessed and honored.
As a guide, I have many tools that I can call upon to assist the flow of energy in our session. My goal is to always honor the innate intelligence of your body and life experience. As a trauma informed practitioner, l always welcome and allow the truth of who you are to guide the session. We begin our session together with an in depth holistic assessment that covers the physical, emotional, and energetic disharmonies that you are currently experiencing. We then begin a beautiful intention setting process that focuses and opens the frequency of the healing. Once we have our intention then we can begin to open the energetic pathways. I will guide some breath work and meditation to ground us into the experience gently. This will be a blend of somatic regulation and activation of the root energy as we begin to cultivate more awareness of the central channel of the body. Once I feel the central channel is open then we can begin the energetic bodywork.
In essence the energy work I offer is an opportunity for you to surrender to the innate bodily wisdom you hold within you. This not a modality where you rest and receive in a passive way. This is truly an interactive experience where you are surrendering the ebbs and flows of your body as more energy is introduced into the field. Through this experience you may feel waves of warmth or coolness, tingling, the desire to shake or undulate through the spine. There are any ways the body reorganizes itself and the key is to surrender to the natural unraveling of the facia as you feel the energy harmonizing the whole body.
As a practitioner and guide I tune into the flow of your energy. I surrender my will and unify with the will of your energetic body. In this way I allow you to guide the session, I offer support and help facilitate what naturally wants to occur. At anytime you have full authority of the process. You can increase or stop the activation at your will. I trust you and your process. At no point do you lose control or are unable to share what you need. My goal is to offer you the space and permission to allow ALL of your experience to be expressed and do as you need.
With this style of healing you are surrendering to yourself yet at no point do you lose control. It's the divine paradox of releasing control and surrendering while also being fully present an in control.
Through our session we continuously weave together a powerful healing journey that will balance and align the energy of the body in a profound and deeply nourishing way.
Sessions can be done online or in person in Sebastopol, California.
Each online session is recorded and sent via email afterward. This gives you the chance to download the session and return back to it as you need.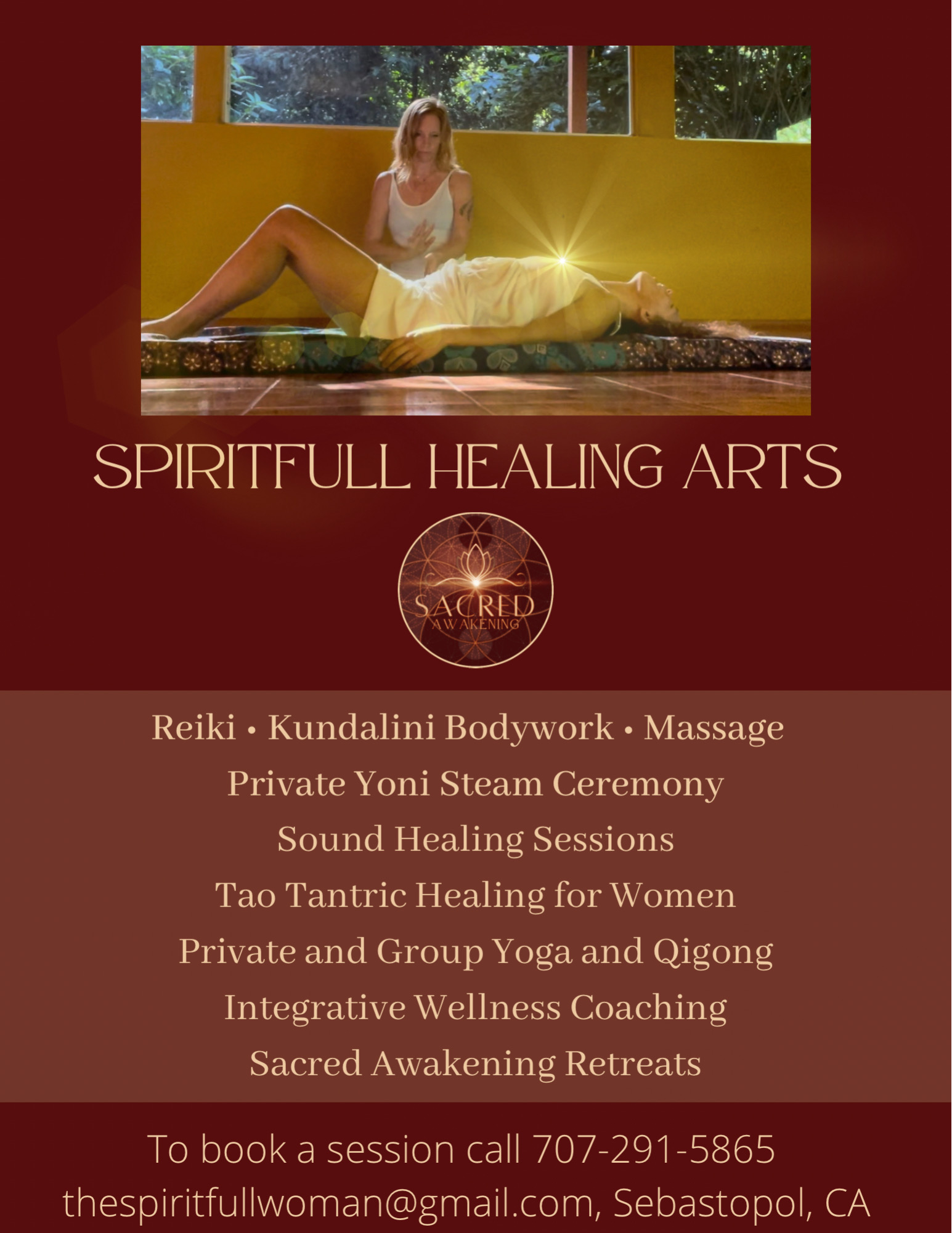 Book Your Healing Session Online!
Check out my online booking system! This is for both online and in person sessions.
♥
A little about Tao Tantric Healing for Women:
The Tao Tantric Arts are a blend of Taoist and Tantric feminine practices that reconnect you to the source of your sacred power. They build sexual vitality, cultivate a high level of self love and strengthen the female sexual organs, including the pelvic floor.
Through sacred self care practices, shadow work, energetic womb clearing, sound healing, visualization, and breath work, together we create the space for life force to flow freely, harmonizing the hormonal system, boosting the immune system and nourishing the nervous system. By harmonizing and releasing old beliefs, patterns and trauma from the tissues and organs we begin to access the true essence of your femininity, awakening your divine pleasure and orgasmic potential.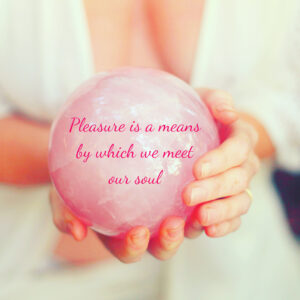 Learning to cultivate, refine, sublimate and circulate sexual energy for vitality, health and pleasure is the foundation of Tao Tantric Arts.
Sexual energy healing is essential and extremely potent medicine for this time in our story. Unconditional self love and acceptance is at the core of my work women. I'm here to offer a healing space for you to be seen, heard and held in the most sacred and safe way.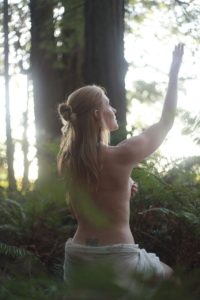 Here are a few of the practices we may explore in a private healing session
Somatic Nervous System Regulation
Breath Work
Erotic Reclamation & Body Sovereignty
Somatic Movement Medicine
Breast massage and Well-Being
Pussy Breathing
Vulva Mapping
Yoni-heart connection
Sacred womb clearing and blessing
Kidney and bone breathing
Jade egg practices including de-armoring
Pleasure activation meditation
Pelvic floor articulation, relaxation and strengthening
Inner alchemy and the six healing sounds
Inner smile healing technique
Multi-orgasmic sublimation practices
The benefits of a private healing session with Feather include
Increased energy and radiance
Feeling a sense of deep peace while feeling turned on and tuned into life
Healing pelvic floor disharmonies including incontinence support, postpartum care and pleasure activation
Harmonizing with your menstrual cycle for decreased pain, PMS, and flow
Fertility activation and empowerment
Holistic hormone balancing for perimenopause, menopause and beyond
Building your Somatic Self Regulation Tool Box to aid you through emotional disharmonies such as feelings of depression, anxiety, grief and trauma
Healing Sexual Shame
Emotional support and care
Reconnecting to the sacred power of your feminine nature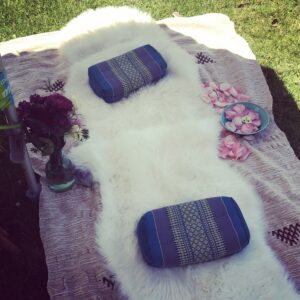 I believe this work is truly the basis of all health. Healing at the root not only connects us to our sacred power as women, it also plays a huge role in healing our connection to the Earth, finding more balance and harmony in our relationships, inspiring our creativity and fueling our passion.
Contact Feather to schedule a session a [email protected]